Liberfit : Coach & Club Fitness Software
Do FITNESS, not administration…
Liberfit do it for you !

Club management
Customer relationship
Accounting
Manage your schedule more easily
For you, for the coaches, for the customers!
Recurrences
Invitations
Attendance
Invoicing management
Interface with payment solutions (credit cards, SEPA…)

Ergonomic
Quick creation

 Interface with payment solutions
Coaching & Nutrion
Weight Loss – Fitness – Performance

Included programs
Performance monitoring
Motivate your members!
Starting at 25 € per month
Manage your schedules more easily
Thanks to Liberfit, each user (coach, customer) and location (room, club) has its own schedule, automatically filled with every event Scheduling won't ever be a puzzle for you, wether you are a freelance coach or the owner of a fitness network !
Follow your customer base
Liberfit est bien plus qu'un simple carnet d'adresse : connaissez ses objectifs, attribuez des séances et des programmes alimentaires, suivez sa progression et améliorez ainsi la qualité de votre service !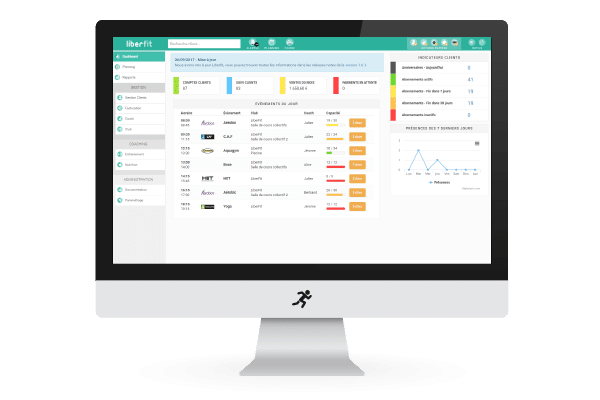 Track your activity at every moment
Liberfit allows you to track all the activities of your establishment: access and exits, reservations, subscriptions, new accounts, transactions…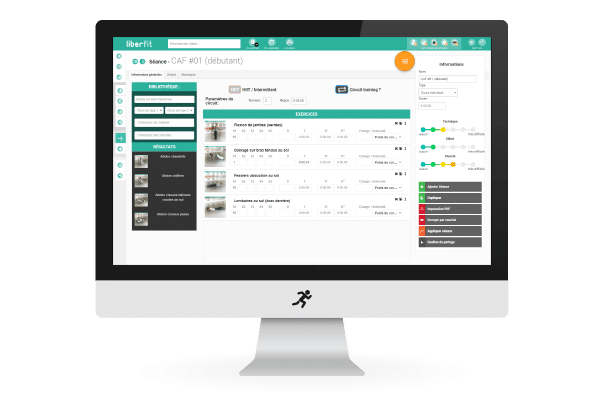 Make up in minutes custom training plans
We make your life easier : offer everyone a personalized nutrition & training plan with our creative tools !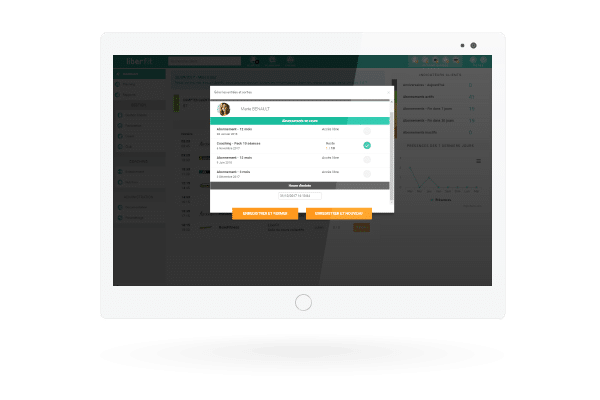 Access control with confidence
With automatic and manual attendance tracking features and the ability to integrate different levels of access control, Liberfit fits perfectly in your club operation.
Liberfit will change the way you work
With more than 100 features and a large data library, Liberfit will gain you more free you time, thanks to a more efficient management and coaching.
RESPONSIVE DESIGN
The software can be used as easily on PC, tablet or smartphone, thanks to an UX-oriented design.
POWERFUL ANALYTICS TOOLS
Track performance of a person, group, or your entire business in the short, medium, and long term.
CUSTOMIZABLE
Whether you are a demanding coach fine-tuning each sessions or a self-service club wishing to provide a simple solution to the greatest number!
REALTIME ALERTS
By setting up alerts, you can interact with the customer at the right time and in the right way: renewal, demotivation, repeated absences …
TWO PORTALS FOR YOU AND YOUR CUSTOMERS
A powerful and functional interface for your management, and an efficient and user-friendly one for your members.
YOUR OWN SOCIAL NETWORK !
With public and private discussion features and event management, turn your online space into a connected community!
A ROI-friendly pricing